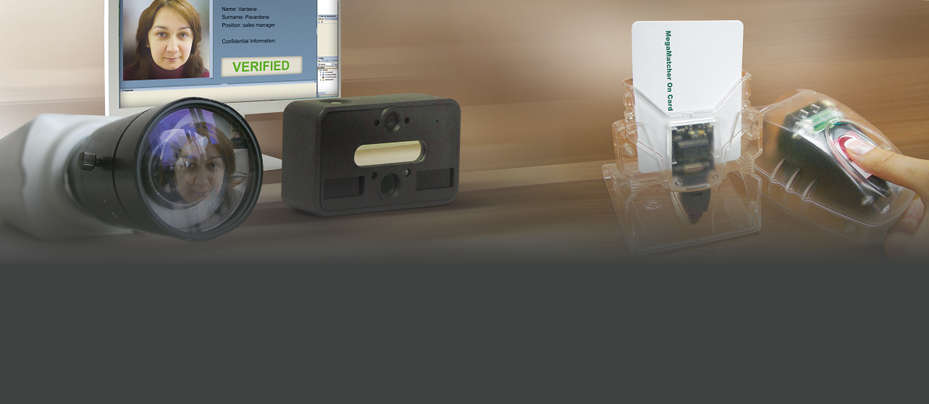 MegaMatcher On Card SDK
Multimodal Biometric on Card Comparison
MegaMatcher On Card SDK offers matching-on-card technology that stores a person's fingerprint, iris and face templates on a smart card and performs template matching in a microprocessor embedded in the card, instead of matching biometric information on a PC processor.
The match-on-card method ensures that personal biometric information does not transfer to an external computer as it would in a more basic template-on-card system. More than 130 million smart cards and secure elements worldwide already include MegaMatcher On Card.
MegaMatcher On Card SDK is developed utilizing a set of ISO/IEC standards to enable interoperability with and easy integration into existing smart card and/or biometric systems.
Supported fingerprint scanners
and sensors
We are always looking for scanner manufacturers to include the support for their fingerprint scanners to our products. Please, contact us for more details.
These fingerprint scanners and sensors are supported by our biometric products. Each device has 500 ppi resolution, unless a different resolution is mentioned in the Notes column.
Please, click on a scanner name to view more information about it.
Scanner
Sensor technology
Capture method
Image capture area
Image size (pixels)
Notes
3M Cogent CSD 330
Optical
Touch
1" x 1"
500 x 500
FIPS 201 PIV certified.
Abilma UNITY
Optical
Roll or touch
5.0" x 5.1"
Scans palm prints, up to 4 flat fingerprints simultaneously or single rolled fingerprints;
FBI IQS compliant (Appendix F of EFTS);
Wi-Fi 802.11n connection.
ACS AET62
Capacitive
Sweep
0.38" x 0.01"
192 x 4
Embedded contactless smart card reader
ACS AET65
Capacitive
Sweep
0.38" x 0.01"
192 x 4
Embedded smart card reader
Aratek A400
Capacitive
Touch
0.5" x 0.7"
256 x 360
PIV and Appendix F Mobile ID FAP 10 certified.
Aratek A600
Optical
Touch
0.6" x 0.8
300 x 400
PIV and Appendix F Mobile ID FAP 20 certified.
Aratek BM5510
Optical
Touch
0.6" x 0.9"
320 x 480
Wi-Fi 802.11 b/g/n connection.
3G connection.
Bluetooth 4.0 connection.
Aratek BM7500
Optical
Touch
0.6" x 0.9"
320 x 480
Wi-Fi 802.11 b/g/n connection.
3G connection.
Bluetooth 4.0 connection.
Aratek FRO900
Optical
Roll or touch
3.2" x 3.0"
1600 x 1500
Appendix F compliant;
Scans up to 4 flat fingerprints simultaneously.
ARH AFS 510
Optical
Roll or touch
4" x 3"
IAFIS IQS compliant.
Scans up to 4 flat finger simultaneously.
Athena ASEDrive IIIe Combo Bio F2
Capacitive
Touch
0.4" x 0.6"
208 x 288
Embedded smart card reader
BioID BioSlap
Optical
Roll or touch
3.2" x 3.0"
FBI Appendix F certified. IP54 rated casing.
BioLink U-Match MatchBook v.3.5
Optical
Touch
0.6" x 0.9"
Biometrika Fx2000
Optical
Touch
0.5" x 1.0"
296 x 560
Biometrika Fx2100
Optical
Touch
0.5" x 1.0"
PIV certified.
Biometrika Fx3000
Optical
Touch
0.7" x 1.0"
400 x 560
Biometrika HiScan
Optical
Touch
1.0" x 1.0"
500 x 500
PIV / FIPS 201 certified
Biometrika HiScan PRO
Optical
Touch
1.0" x 1.0"
PIV certified.
Credence ID Credence One
Capacitive
Touch
0.5" x 0.7"
256 x 360
Wi-Fi 802.11 a/b/g/n connection.
Bluetooth 4.0 connection.
Embedded smart card reader.
Credence ID CredenceTWO-R
LES
Touch
0.8" x 1.0"
400 x 500
Wi-Fi 802.11 a/b/g/n connection.
Bluetooth 4.0 connection.
3G/4G/LTE connection.
Embedded smart card reader.
Credence ID Trident
LES
Roll or touch
1.6" x 1.5"
Scans single or dual flat fingerprints, or single rolled fingerprints.
Wi-Fi 802.11 a/b/g/n connection.
Bluetooth 4.0 connection.
Integrated dual iris scanner.
Cross Match Guardian 100
Optical
Touch
3.2" x 3.3"
FBI Appendix F certified;
Scans up to 4 flat fingerprints simultaneously.
Cross Match Guardian 200
Optical
Touch
3.2" x 3.3"
FBI Appendix F certified;
Scans up to 4 flat fingerprints simultaneously and Rolled fingerprints.
Cross Match Guardian 300
Optical
Touch
3.2" x 3.3"
FBI Appendix F certified;
Scans up to 4 flat fingerprints simultaneously and Rolled fingerprints.
Cross Match Guardian FW
Optical
Roll or touch
3.2" x 3.0"
FBI Appendix F certified;
Scans flat ten-prints and single rolled fingerprints.
FireWire connection.
Cross Match Guardian Module
Optical
Touch
3.2" x 3.3"
FBI Appendix F certified;
Scans up to 4 flat fingerprints simultaneously and Rolled fingerprints.
Cross Match Guardian USB
Optical
Roll or touch
3.2" x 3.0"
FBI Appendix F certified;
Scans flat ten-prints and single rolled fingerprints.
Cross Match Guardian-F USB
Optical
Touch
3.2" x 3.0"
FBI Appendix F certified;
Scans up to 4 flat fingerprints simultaneously.
Cross Match L Scan 500P
Optical
Roll or touch
5.0" x 5.1"
2496 x 2560
Scans palm prints, up to 4 flat fingerprints simultaneously or single rolled fingerprints;
FBI IQS compliant (Appendix F of EFTS)
Cross Match Patrol
Optical
Roll or touch
3.2" x 3.0"
FBI Appendix F certified;
Scans rolled fingerprints;
Scans up to 4 flat fingerprints simultaneously.
Cross Match Patrol ID
Optical
Touch
3.2" x 3.0"
FBI Appendix F certified;
Scans up to 4 flat fingerprints simultaneously.
Cross Match Verifier 300 Classic
Optical
Touch
1.2" x 1.2"
Cross Match Verifier 300 LC
Optical
Touch
1.2" x 1.2"
Cross Match Verifier 300 LC 2.0
Optical
Touch
1.2" x 1.2"
Cross Match Verifier 320 LC
Optical
Roll or touch
1.6" x 1.5"
FBI IAFIS IQS and PIV certified;
Scans 2 flat fingerprints simultaneously or 1 rolled.
DERMALOG F1
Optical
Touch
0.7"x1.0"
FIPS 201 PIV certified.
DERMALOG LF10
Optical
Roll or touch
3.2" x 3.2"
FBI IQS Appendix F certified.
Captures 4+4+2 flat fingerprints, and single rolled.
DERMALOG ZF1
Optical
Touch
0.6" x 0.9"
320 x 480
PIV / FIPS 201 certified;
Includes live finger detection
DigitalPersona EikonTouch 710
Capacitive
Touch
0.5" x 0.7"
256 x 360
FIPS 201 certified
DigitalPersona U.are.U 4500 scanner
Optical
Touch
0.6" x 0.7"
DigitalPersona U.are.U 5100 Module
Optical
Touch
0.5" x 0.6"
FIPS 201 PIV certified.
DigitalPersona U.are.U 5100 Reader
Optical
Touch
0.5" x 0.6"
FIPS 201 PIV certified.
DigitalPersona U.are.U 5160 Reader
Optical
Touch
0.5" x 0.6"
FIPS 201 PIV certified.
DigitalPersona U.are.U 5200 Module
Optical
Touch
0.6" x 0.8"
FIPS 201 PIV certified.
DigitalPersona U.are.U 5300 Module
Optical
Touch
0.8" x 1.0"
PIV and Appendix F Mobile ID FAP 30 certified.
DigitalPersona U.are.U 5300 Reader
Optical
Touch
0.8" x 1.0"
PIV and Appendix F Mobile ID FAP 30 certified.
DigitalPersona (UPEK) Eikon Solo
Capacitive
Sweep
1.0" x 0.3"
DigitalPersona (UPEK) EikonTouch 300
Capacitive
Touch
0.4" x 0.6"
208 x 288
DigitalPersona (UPEK) EikonTouch 500
Capacitive
Touch
0.5" x 0.7"
256 x 360
DigitalPersona (UPEK) EikonTouch 700
Capacitive
Touch
0.5" x 0.7"
256 x 360
FIPS 201 certified
Famoco FX100 Bio
Optical
Touch
0.6" x 0.9"
Mobile stand-alone device. Wi-Fi, 3G and Bluetooth connections. Embedded contactless RFID card reader.
Fujitsu MBF200
Capacitive
Touch
0.5" x 0.6"
256 x 300
Fulcrum Biometrics mobileOne QuickDock
Optical
Touch
0.5" x 0.7"
256 x 360
Wi-Fi 802.11 b/g/n connection.
Apple Lightning connector.
PIV / FIPS 201 compliant sensor.
Futronic eFAM (FS84)
Optical
Touch
0.6" x 0.9"
320 x 480
Ethernet or serial connection.
Futronic FS10
Optical
Touch
1.0" x 1.0"
500 x 500
PIV / FIPS 201 certified
Futronic FS26
Optical
Touch
0.6" x 0.9"
320 x 480
Embedded MIFARE card reader/writer
Futronic FS26EU
Optical
Touch
0.6" x 0.9"
320 x 480
PIV / FIPS 201 compliant. Embedded smart card reader (ISO7816 contact and ISO14443/Mifare contactless supported)
Futronic FS28
Optical
Touch
0.6" x 0.9"
320 x 480
Bluetooth connection
Futronic FS50
Optical
Roll or touch
1.6" x 1.5"
800 x 750
Two finger scanner. FBI IQS certified, FIPS 201 / PIV compliant.
Futronic FS60
Optical
Roll or touch
3.2" x 3.0"
1600 x 1500
Four finger scanner. FBI IQS IAFIS certified.
Futronic FS64
Optical
Roll or touch
3.2" x 3.0"
1600 x 1500
Scans up to 4 flat fingerprints simultaneously or single rolled fingerprints;
FBI IQS compliant (Appendix F of EFTS).
Futronic FS80
Optical
Touch
0.6" x 0.9"
320 x 480
Includes spoof detection
Futronic FS80H
Optical
Touch
0.6" x 0.9"
320 x 480
Includes spoof detection
Futronic FS82
Optical
Touch
0.6" x 0.9"
320 x 480
Includes spoof detection
Embedded smart card reader
Futronic FS88
Optical
Touch
0.6" x 0.9"
320 x 480
PIV / FIPS 201 certified
Futronic FS88H
Optical
Touch
0.6" x 0.9"
320 x 480
PIV / FIPS 201 certified
Futronic FS90
Optical
Touch
0.6" x 0.9"
300 x 440
Green Bit DactyID20
Optical
Touch
0.7" x 0.8"
PIV-certified.
Green Bit DactyScan40i
Optical
Roll or touch
1.6" x 1.6"
FBI Appendix F and FIPS-201 / PIV certified.
Scans dual flat fingerprints.
Green Bit DactyScan84c
Optical
Roll or touch
3.2" x 3.0
FBI IQS compliant;
Scans up to 4 flat fingerprints simultaneously.
Green Bit MultiScan527
Optical
Roll or touch
5.0" x 5.0"
Scans palm prints, up to 4 flat fingerprints simultaneously or single rolled fingerprints;
FBI IQS compliant (Appendix F of EFTS).
HFSecurity HF-4000
Optical
Touch
0.8" x 1.3"
HFSecurity HF-7000
Capacitive
Touch
0.5" x 0.6"
256 x 288
Hongda S500
Optical
Touch
0.6" x 0.8"
Hongda S680
Optical
Roll or touch
1.6" x 1.6"
Hongda S700
Optical
Touch
3.2" x 3.0
1600 x 1500
Scans 4 flat fingerprints simultaneously.
IAFIS IQS compliant
IDENTOS Tactivo Mini for Android Optical
Optical
Touch
0.5" x 0.8"
256 x 360
Embedded smart card reader. IP54 rated casing.
iMD GF601BM
Capacitive
Touch
0.8" x 1.0"
400 x 500
PIV certified
iMD SF202
Capacitive
Touch
0.4" x 0.6"
208 x 288
iMD SF302GM
Capacitive
Touch
0.5" x 0.7"
256 x 360
PIV certified
Integrated Biometrics Columbo
LES
Touch
0.8" x 1.0"
400 x 500
PIV and Appendix F Mobile ID FAP 30 certified.
Integrated Biometrics Columbo OEM
LES
Touch
0.8" x 1.0"
400 x 500
PIV and Appendix F Mobile ID FAP 30 certified.
Integrated Biometrics Curve
LES
Touch
0.6" x 0.7"
288 x 352
Includes live finger detection
Integrated Biometrics Five-0
LES
Touch
3.2" x 2.0"
1600 x 1000
Scans up to 4 flat fingerprints simultaneously. Appendix F Mobile ID FAP 50 certified.
Integrated Biometrics Kojak
LES
Roll or touch
3.2" x 3.0"
1600 x 1500
Scans up to 4 flat fingerprints simultaneously or single rolled fingerprints;
FBI IQS compliant (Appendix F of EFTS).
Integrated Biometrics LES650
LES
Touch
0.6" x 0.7"
Includes live finger detection
Integrated Biometrics Sherlock
LES
Roll or touch
1.6" x 1.5"
800 x 750
Two finger scanner. PIV and Appendix F Mobile ID FAP 45 certified.
Integrated Biometrics Watson
LES
Roll or touch
1.6" x 1.5"
800 x 750
Two finger scanner. PIV and Appendix F Mobile ID FAP 45 certified.
Integrated Biometrics Watson Mini
LES
Roll or touch
1.6" x 1.5"
800 x 750
Two finger scanner. PIV and Appendix F Mobile ID FAP 45 certified.
Jenetric LIVETOUCH QUATTRO
Optical
Roll or touch
3.2" x 3.0"
FBI Appendix F certified;
Scans up to 4 flat fingerprints simultaneously and Rolled fingerprints.
Jenetric LIVETOUCH QUATTRO Compact
Optical
Roll or touch
3.2" x 3.0"
FBI Appendix F certified;
Scans up to 4 flat fingerprints simultaneously and Rolled fingerprints.
Koehlke KIAU-5110B3
Optical
Touch
0.5" x 0.6"
240 x 288
L-1 DFR 2080
Optical
Touch
0.6" x 0.6"
248 x 292
L-1 DFR 2090
Optical
Touch
0.8" x 1.0"
425 x 484
USB and RS-170 (analog) image output
L-1 DFR 2100
Optical
Touch
1" x 1"
500 x 500
PIV / FIPS 201 certified
L-1 DFR 2300
Optical
Touch
1.5" x 1.2
Lumidigm M210 module
Optical
Touch
0.6" x 0.7"
Includes live finger detection.
Lumidigm M211 sensor
Optical
Touch
0.6" x 0.7"
Includes live finger detection.
Lumidigm M321 sensor
Optical
Touch
0.6" x 0.7"
Includes live finger detection.
Lumidigm V300 module
Optical
Touch
0.7" x 1.1"
Includes live finger detection.
Lumidigm V302 reader
Optical
Touch
0.7" x 1.1"
Includes live finger detection.
Lumidigm V311 reader
Optical
Touch
0.7" x 1.1"
Includes live finger detection.
Lumidigm V371 reader
Optical
Touch
0.7" x 1.1"
Includes live finger detection. Embedded NFC reader.
Mantra MAPRO-CX
Capacitive
Touch
0.5" x 0.7"
256 x 360
PIV and Appendix F Mobile ID FAP 10 certified.
Mantra MFS500
Optical
Touch
0.6" x 0.7"
296 x 354
PIV and Appendix F Mobile ID FAP 10 certified.
Miaxis SM-2BU
Capacitive
Touch
NeuBio MARS 02
Optical
Touch
0.6" x 0.7"
252 x 330
NEXT Biometrics NB-3010-U
Thermal
Touch
0.5" x 0.7"
180 x 256
385 ppi resolution
NEXT Biometrics NB-3023-U2
Thermal
Touch
0.5" x 0.7"
180 x 256
385 ppi resolution
NEXT Biometrics NB-65200-U
Thermal
Touch
0.6" x 0.8"
300 x 400
PIV certified
NITGEN eNBioScan-C1
Optical
Touch
0.6" x 0.7"
260 x 330
NITGEN eNBioScan-D plus
Optical
Roll or touch
1.9" x 1.9"
952 x 952
Two finger scanner. Appendix F Mobile ID FAP 45 certified.
NITGEN eNBioScan-F
Optical
Touch
1.2" x 1.2"
600 x 600
PIV / FIPS 201 certified;
FBI IQS compliant.
NITGEN Fingkey Hamster
Optical
Touch
0.7" x 0.8"
NITGEN Fingkey Hamster II
Optical
Touch
0.7" x 0.8"
Includes live finger detection
NITGEN Fingkey Mouse III
Optical
Touch
0.7" x 0.8"
Mouse with embedded fingerprint reader
NITGEN NScan-T
Optical
Roll or touch
3.2" x 3.0"
FBI Appendix F certified;
Scans up to 4 flat fingerprints simultaneously and Rolled fingerprints.
SecuGen Hamster III
Optical
Touch
0.6" x 0.7"
260 x 300
SecuGen Hamster IV
Optical
Touch
0.6" x 0.7"
258 x 336
PIV / FIPS 201 certified;
FBI IAFIS IQS compliant.
SecuGen Hamster Plus
Optical
Touch
0.6" x 0.7"
260 x 300
SecuGen Hamster Pro
Optical
Touch
0.7" x 0.9"
260 x 300
SecuGen Hamster Pro 20
Optical
Touch
0.7" x 0.9"
300 x 400
PIV and Appendix F Mobile ID FAP 20 certified.
SecuGen Hamster Pro Duo CL
Optical
Touch
0.7" x 0.9"
300 x 400
PIV and Appendix F Mobile ID FAP 20 certified. Embedded NFC reader
SecuGen Hamster Pro Duo SC/PIV
Optical
Touch
0.7" x 0.9"
300 x 400
PIV and Appendix F Mobile ID FAP 20 certified. Embedded smart card reader
SecuGen iD-USB SC
Optical
Touch
0.6" x 0.7"
260 x 300
Embedded smart card reader
SecuGen iD-USB SC/PIV
Optical
Touch
0.6" x 0.7"
258 x 336
Embedded smart card reader
Shanghai Fingertech BIOCA-111
Optical
Touch
0.7" x 0.9"
SMUFS Biometric SMUFS BT
Capacitive
Touch
0.5" x 0.7"
256 x 360
Bluetooth connection.
PIV / FIPS 201 compliant fingerprint sensor.
Startek FC320U
Optical
Roll or touch
0.9" x 0.9"
450 x 450
PIV / FIPS 201 compliant.
Startek FM220U
Optical
Touch
0.5" x 0.6"
264 x 324
Startek FPC360U
Capacitive
Touch
0.5" x 0.7"
256 x 360
Dongle form-factor.
Suprema BioMini
Optical
Touch
0.6" x 0.7"
288 x 320
Suprema BioMini Combo
Optical
Touch
0.7" x 1.0"
320 x 480
Embedded smart card reader.

PIV / FIPS 201

compliant fingerprint sensor.
Suprema BioMini Plus
Optical
Touch
0.6" x 0.7"
260 x 340
FIPS-201 (PIV) compliant
Suprema BioMini Plus2
Optical
Touch
0.6" x 0.7"
315 x 354
FIPS-201 (PIV) compliant
Suprema BioMini SFU-S20
Optical
Touch
0.7" x 1.0"
320 x 480
PIV and Appendix F Mobile ID FAP 20 certified.
Suprema BioMini Slim
Optical
Touch
0.7" x 1.0"
320 x 480
PIV and Appendix F Mobile ID FAP 20 certified.
Suprema BioMini Slim 2
Optical
Touch
0.6" x 0.8"
300 x 400
PIV and Appendix F Mobile ID FAP 20 certified.
Suprema BioMini Slim 3
Optical
Touch
0.8" x 1.0"
400 x 500
PIV and Appendix F Mobile ID FAP 30 certified.
Suprema RealScan G1
Optical
Touch
1.0" x 1.0"
500 x 500
PIV-certified
Suprema RealScan-10
Optical
Roll or touch
3.2" x 3.0"
1600 x 1500
The scanner is able to scan up to 4 flat fingerprints simultaneously, or a single rolled fingerprint.
Suprema RealScan-D
Optical
Roll or touch
1.8" x 1.8"
900 x 900
FBI IAFIS IQS certified;
Scans 2 flat fingerprints simultaneously or 1 rolled fingerprint
Suprema RealScan-F
Optical
Roll or touch
5.1" x 5.1"
2550 x 2550
Scans palm prints, up to 4 flat fingerprints simultaneously or single rolled fingerprints;
FBI IQS compliant (Appendix F of EFTS).
Suprema RealScan-FC
Optical
Roll or touch
5.2" x 5.1"
2500 x 2500
Scans palm prints.
Suprema RealScan-G10
Optical
Roll or touch
3.2" x 3.0"
The scanner is able to scan up to 4 flat fingerprints simultaneously, or a single rolled fingerprint.
Suprema RealScan-G10F
Optical
Touch
3.2" x 3.0"
The scanner is able to scan up to 4 flat fingerprints simultaneously.
Suprema SFR300-S
Optical
Touch
0.6" x 0.7"
288 x 288
Suprema SFU300
Optical
Touch
0.6" x 0.7"
288 x 320
TENBIO TOUCH ONE
Optical
Touch
0.8" x 1.0"
340 x 380
Testech Bio-i CYTE
Hybrid
Touch
0.6" x 0.7"
Thales Cogent CSD101i
Optical
Touch
0.5" x 0.7"
256 x 360
PIV and Appendix F Mobile ID FAP 10 certified.
TopLink Pacific BLUEFiN
Capacitive
Touch
0.5" x 0.7"
256 x 360
Bluetooth connection
TST Biometrics BiRD 3
Optical
Non-contact
0.6" x 0.7"
480 x 640
Includes live finger detection;
Optional ethernet connection.
UnionCommunity ViRDI FOH02SC
Optical
Touch
0.6" x 0.7"
Embedded contactless smart card reader
UPEK Eikon
Capacitive
Sweep
1.0" x 0.4"
UPEK Eikon To Go
Capacitive
Sweep
1.0" x 0.4"
UPEK TouchChip TCRU1C
Capacitive
Touch
0.5" x 0.7"
256 x 360
UPEK TouchChip TCRU2C
Capacitive
Touch
0.4" x 0.6"
208 x 288
ZKSoftware ZK4000
Optical
Touch
0.6" x 0.7"
280 x 360
ZKSoftware ZK4500
Optical
Touch
0.6" x 0.8"
280 x 360
ZKSoftware ZK6000
Optical
Touch
0.6" x 0.7"
ZKSoftware ZK7000
Optical
Touch
0.6" x 0.7"
ZKSoftware ZK8000
Optical
Touch
0.6" x 0.7"
Embedded MIFARE card reader / writer
ZKTeco SLK20R
Optical
Touch
0.6" x 0.8
300 x 400
ZKTeco ZK9500
Optical
Touch
0.6" x 0.8
300 x 400
Zvetco Verifi P5100
Capacitive
Touch
0.5" x 0.7"
256 x 360
Based on PIV / FIPS 201 certified UPEK TCS1 sensor