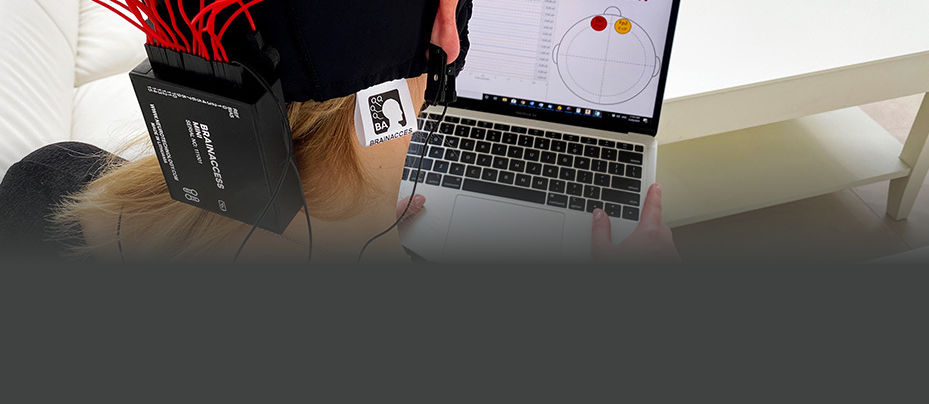 BrainAccess Development Kit
Compact solution for brain-computer interface (BCI) systems based on dry electroencephalography (EEG)
BrainAccess is a kit intended for researchers and developers who need an easy-to-use and reasonably-priced EEG solution for BCI applications.
Available as BrainAccess Standard Kit and BrainAccess Extended Kit which include electroencephalographs, headwear with a set of dry-contact electrodes and software for EEG signal acquisition and processing. The kits also include ready-to-use algorithms which can be used for BCI applications.
Features and capabilities
EEG headwear, electroencephalograph and software included.
Shape-conforming dry-contact gold electrodes. No gel is needed.
Flexible EEG headwear configuration.
Three ready-to-use BCI algorithms included.
Direct access to real-time EEG data.
Multiple programming languages supported.
Reasonable prices and free customer support.
Brain-computer interface (BCI) is a communication link between human's brain and an external device. BCI applications range from lost motor functions or speech replacement to mind controlled computer games.
The main components of BCI are reading brain activity and translating that activity to commands understandable by computers or other devices. There are many methods for measuring brain activity. Each method differs in its invasiveness, time and spatial resolutions.
Neurotechnology concentrates on using electroencephalography (EEG) as a way to monitor brain activity for the development of BCI. EEG measures electrical activity of a brain by placing electrodes on human's scalp. Neurotechnology offers dry contact EEG electrodes that do not need any skin preparation or gel, making BCI better applicable outside laboratory environment. Conventional EEG measurements involve scalp preparation and application of conductive gel for better electrode contact.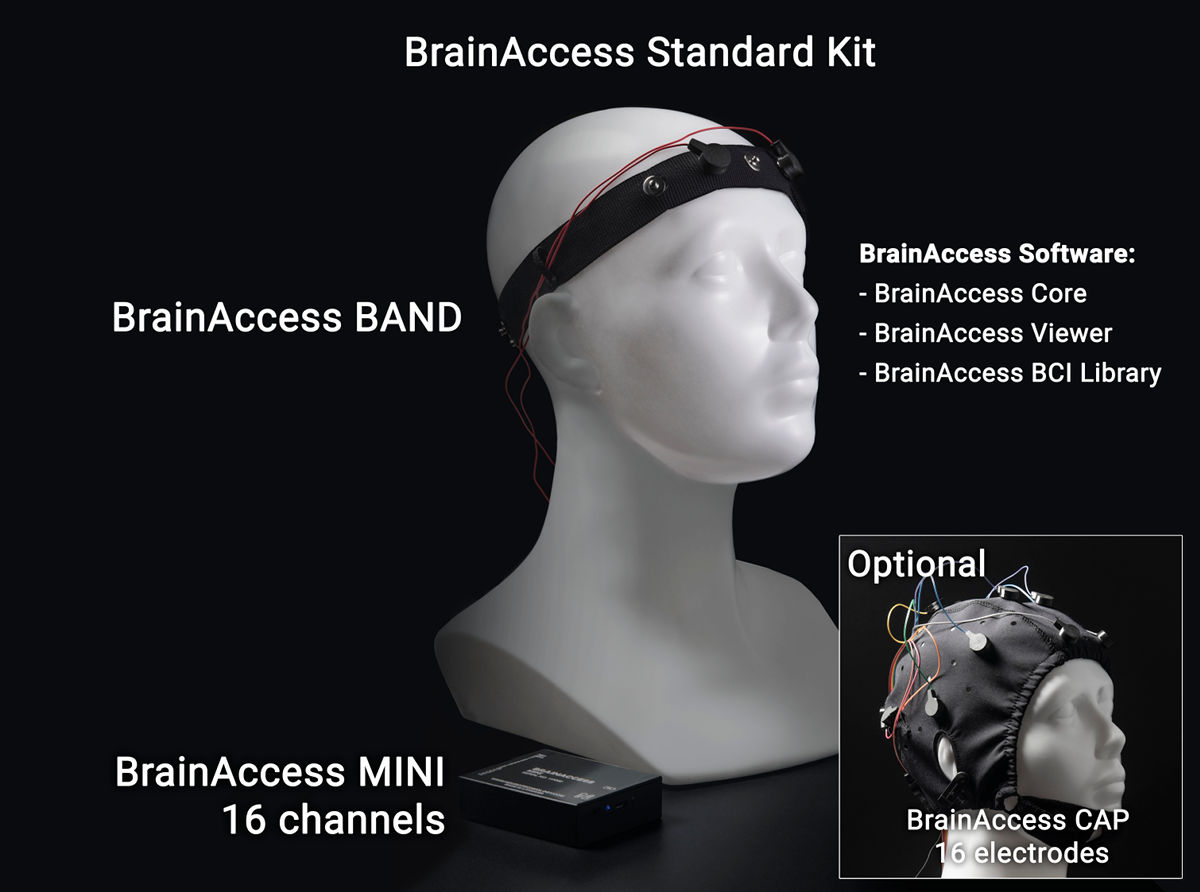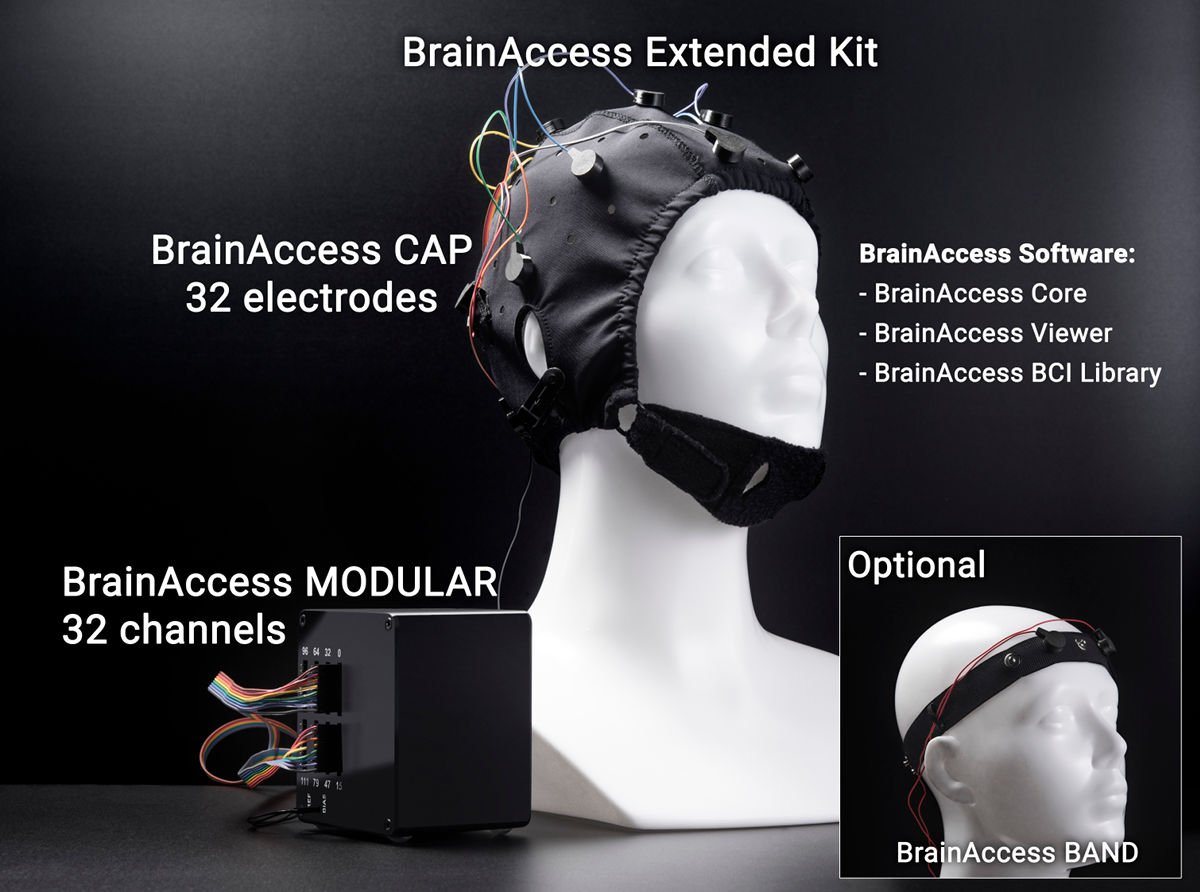 Two variants of BrainAccess Development Kit are available:
BrainAccess Standard Kit – intended for experiments and applications with small number of EEG channels. The kit features BrainAccess MINI, a 16 channel ultra-portable electroencephalograph, and BrainAccess BAND headwear for dry-contact EEG measurements over occipital and/or forehead regions. BrainAccess CAP with 16 dry-contact electrodes is optionally available for a standard coverage of cerebral cortex.
BrainAccess Extended Kit – intended for experiments and applications with large number of EEG channels. The kit features BrainAccess MODULAR electroencephalograph with 32 acquisition channels and BrainAccess CAP with 32 dry-contact electrodes. The kit offers high-density coverage of cerebral cortex which can be increased even further with an optional increase of the number of acquisition channels in BrainAccess MODULAR electroencephalograph and number of electrodes in BrainAccess CAP.
The BrainAccess technology has these capabilities for dry EEG-based BCI applications:
Ready-to-use BCI algorithms. The BrainAccess BCI Library includes three sample algorithms designed for brain-computer interface (BCI) applications working with signals from the dry contact EEG electrodes. The algorithms are able to recognize EEG patterns related to user actions (facial movements, visual focus, relaxation state).
Direct access to real-time EEG data. The BrainAccess Core library provides the developers with direct access to the measured EEG data which can be used for the development of custom BCI algorithms.
Flexible EEG headwear. BrainAccess kits include BrainAccess BAND and/or BrainAccess CAP headwear, which use our own dry-contact gold electrodes. Dry-contact gold electrodes are shape-conforming offering increased comfort when compared to conventional dry-contact electrodes. The band and the cap are both flexible and adjustable further improving the fitting of the electrodes. The electrodes can be easily mounted at different standardized locations in the headwear.
Portable electroencephalographs. The EEG signals are measured by battery-powered electroencephalographs and then sent to a host computer via wireless communication. Two electroencephalographs are available: BrainAccess MINI, which features 16 channel acquisition in a pocket-sized box, and BrainAccess MODULAR, which supports from 32 to 128 channels via expansion boards.
Multiple programming languages supported. The BrainAccess Core and BrainAccess BCI Library are provided as DLL libraries with C++ and Python API included. Wrappers can be used for accessing the BrainAccess functionality from other programming languages.