MegaMatcher Identity Management System (IDMS) provides all necessary software and services for registration and consolidation of identity data into a single registry, maintenance of the data lifecycle, elimination of all ineligible records, and coordination of linkages.
Key Features
Intuitive identity registration using MegaMatcher Identity Registration System (IDRS) streamlines the enrollment process while providing secure and efficient biographic and biometric data collection.
Consolidation of identity data from different sources to create a single identity registry that can be used for various purposes.
Identity validation ensures the quality, accuracy, and integrity of biometric and biographic data. It helps to prevent anomalous records and fraud attempts through liveness detection, age, and quality assessment.
Identity lifecycle management, including registration, updates, status changes, history tracking, and other relevant activities, ensuring that the information is up-to-date.
Registry clean-up by using MegaMatcher ABIS to eliminate duplicate or fraudulent records, which helps to maintain the integrity of the identity registry.
Summarized statistics and reports provide transparency and enable various data analyses, helping to understand the distribution of identity data and enabling informed decisions about identity management system improvements.
High level of security is ensured by using encryption on each identity record. During the data consolidation, the system performs integrity checks to ensure records were not compromised.
Flexible deployment ensures that the system can be used on various hardware and software configurations as well as operate both online and offline, making it highly flexible and adaptable to different environments.
As a central part of identity management ecosystems, MegaMatcher IDMS unifies other Neurotechnology solutions such as MegaMatcher ABIS and MegaMatcher Identity Registration System (IDRS), and can be applied in the majority of civil and criminal application scenarios.
Use Cases
National Identity Registry – create a centralized database of citizen information to facilitate identification, governance and the delivery of government services.
Voter Management System – ensure the integrity of elections by registering applicants, eliminating fraudulent records and building a reliable identity registry.
Refugee Registration – provide accurate and efficient identity management of refugees in order to improve assistance.
Border Rontrol – streamline immigration processes and secure national borders.
Law Enforcement – maintain criminal records, quickly identify suspects and streamline investigations.
Financial Services – provide reliable identity registration and management for financial institutions.
Screenshots
Screenshot
MegaMatcher Identity Management System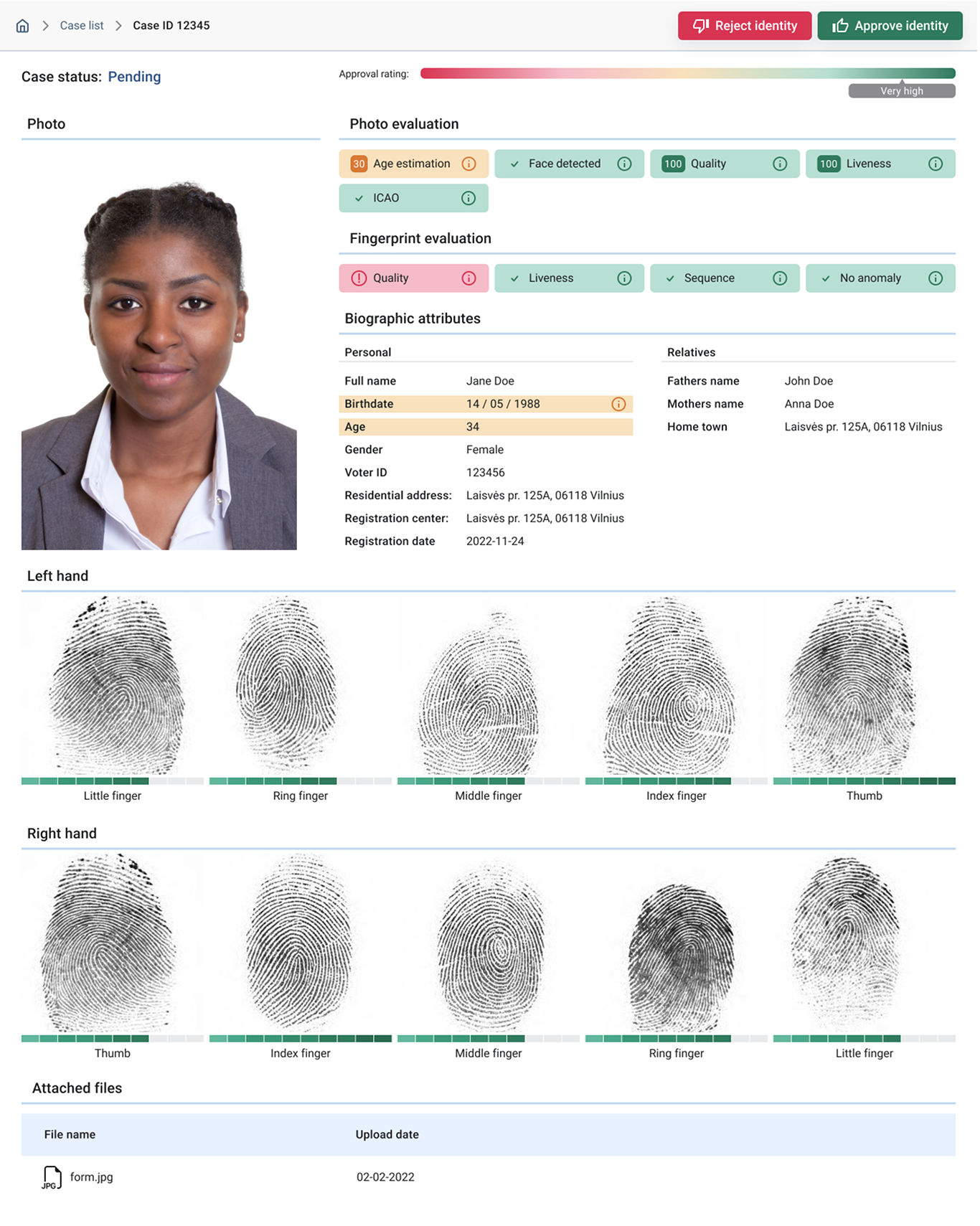 Contact us today.
Learn more about Neurotechnology services and how they can
help you achieve your biometric data management goals.