BM5510
Buy BM5510
at Biometric Supply,
a subsidiary of Neurotechnology.
General view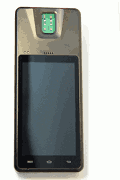 Click to zoom
Aratek's BM5510 is a hand-held smart terminal for mobile fingerprints and faces capture.
The device is equipped with an optical fingerprint reader for scanning single fingers and 5 MP rear camera for face or barcode capture.
According to the manufacturer, the device has wireless communication support, which includes 2G/3G networks, Wi-Fi and Bluetooth, as well as GPS navigation. The manufacturer also specifies that the terminal has IP54 dustproof and waterproof casing.
BM5510 is provided with pre-installed Android OS and allows to run custom applications.
Neurotechnology SDKs allow to use the device for fingerprint and face capture:
Specifications
General
Device Name
BM5510 Fingerprint Smart Terminal
Manufacturer
Aratek
Connection
Wi-Fi 802.11 b/g/n
Bluetooth 4.0
Cellular WCDMA 900/2100 MHz
Supported OS (*)
Android 4.4 (pre-installed on device)
Device power
Li-ion battery, 10000 mAh
Device memory
1 GB RAM
8 GB Flash
microSD (TF) card slot
Device size
201 x 82 x 46 mm (7.9" x 3.2" x 1.8")
Device weight
527 grams (1.2 lbs)
Fingerprint reader
Resolution
500 ppi
Image capture area (Platen size)
16 x 24 mm (0.6" x 0.9")
Fingerprint image size
320 x 480 pixels
Sensor type
Optical
Face capture camera
Camera resolution
5 Megapixel
* These operating systems are supported by Neurotechnology SDKs. Device manufacturers may have different lists of supported operating systems.
Where to order this device?
Buy Aratek BM5510 at Biometric Supply – a subsidiary of Neurotechnology.
Other Aratek devices
Neurotechnology SDKs also can be used with these Aratek devices: