CredenceTWO-R
Buy
CredenceTWO
at Biometric Supply,
a subsidiary of Neurotechnology.
General view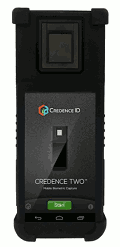 Click to zoom
The CredenceTWO-R from Credence ID is a mobile device for capturing and processing biometric data.
The manufacturer specifies that the device is based on a FAP 30 FIPS-201 FBI certified fingerprint sensor from Integrated Biometrics, which is based on proprietary Light Emitting Sensor (LES) technology and uses a patented capture method. CredenceTWO-R also features a high-res camera for capturing face images and a combined contact/contactless smart card reader. The device rugged hardware is compliant with MIL-STD-810G standard.
CredenceTWO-R is provided with pre-installed Android OS and allows to run custom applications. The device features high capacity battery and supports multiple wireless connectivity options. Also, it is equipped with contact and contactless smart card reader.
Neurotechnology SDKs allow to use the device for fingerprint and face recognition:
Specifications
General
Device Name
CredenceTWO-R
Manufacturer
Credence ID
Connection
Wi-Fi 802.11 a/b/g/n/ac 2.4 and 5 GHz
Bluetooth 4.1 BR/EDR/LE
Cellular HSPA, EDGE, GSM, GPRS 850/900/1800/1900 MHz
Optional 4G/LTE
Supported OS (*)
Android (pre-installed on device)
Device power
Li-ion battery, 6400 mAh removable
Device memory
2 GB RAM
8 GB Flash
SD card slot
Fingerprint reader
Resolution
500 ppi
Image capture area (Platen size)
20 x 25 mm (0.8" x 1.0")
Fingerprint image size
400 x 500 pixels
Sensor type
LES (patented technology by Integrated Biometrics)
Face capture camera
Camera resolution
13 Megapixel
* These operating systems are supported by Neurotechnology SDKs. Device manufacturers may have different lists of supported operating systems.
Where to order this device?
Buy CredenceTWO at Biometric Supply – a subsidiary of Neurotechnology.