mobileOne QuickDock
General view


Click to zoom
With phone adapter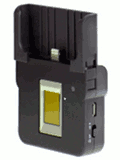 Click to zoom
mobileOne QuickDock from Fulcrum Biometrics is a fingerprint reader designed for using with iOS devices. The mobileOne QuickDock is certified by the FBI as FIPS201 / PIV compliant.
The device is designed for using with the latest iOS devices, starting from iPhone 5, iPad 4 and iPod Touch 5th generation. Optional adapters available for more convenient fixation and usage with a specific device.
The manufacturer specifies that the fingerprint reader is based on the TCS1 capacitive flat fingerprint sensor. The device includes a built-in Li-ion battery which does not drain the host device battery and provides more than 8 hours of operation.
Support modules for this scanner are included in MegaMatcher 13.0 SDK and VeriFinger 13.0 SDK.
Specifications
Scanner Name
FbF mobileOne QuickDock
Manufacturer
Fulcrum Biometrics
Connection
Apple Lightning connector,
Wi-Fi 802.11 b/g/n,
micro-USB
Supported OS (*)
iOS
Resolution
508 ppi
Image capture area (Platen size)
13 x 18 mm (0.5" x 0.7")
Fingerprint image size
256 x 360 pixels
Sensor type
Capacitive
Device power
Li-ion battery, 1000 mAh
Device size (without adapter)
64 x 53 x 19 mm (2.5" x 2.1" x 0.7")
Device weight
100 grams (3.5 oz)
Operating temperature
0°C ~ +40°C
Operating humidity
0% - 90% (non-condensing)
* These operating systems are supported by Neurotechnology SDKs. Device manufacturers may have different lists of supported operating systems.