Futronic FS64
Buy FS64
at Biometric Supply,
a subsidiary of Neurotechnology.
General view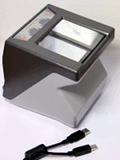 Click to zoom
FS64 from Futronic is an optical ten-finger reader which is certified by the FBI as compliant with IQS IAFIS Appendix F. The reader is able to scan four-finger slaps, dual thumbs, as well as single rolled and flat fingerprints.
The manufacturer specifies that FS64 features IP54-rated sealed casing. The device is USB-powered and does not require dedicated power supply.
Support modules for this scanner are included in MegaMatcher 13.0 SDK, MegaMatcher On Card 13.0 SDK and VeriFinger 13.0 SDK.
Specifications
Scanner Name
FS64 ID Flat Fingerprint Scanner
Manufacturer
Futronic Technology Co. Ltd.
Connection
USB 2.0
Supported OS (*)
Microsoft Windows, Linux, Android
Resolution
500 ppi
Image capture area (Platen size)
81 x 76 mm (3.2" x 3.0")
Fingerprint image size
1600 x 1500 pixels (slaps and flats)
800 x 750 (rolled)
Sensor type
Optical, CMOS
Illumination
Infrared LEDs
Device size
152 x 149 x 155 mm (6.0" x 5.9" x 6.1")
Device weight
2.1 kg (4.6 lbs)
Operating temperature
0°C ~ +50°C
Operating humidity
0-90 % (non-condensing)
* These operating systems are supported by Neurotechnology SDKs. Device manufacturers may have different lists of supported operating systems.
Neurotechnology Solution Partners use this scanner in
Futronic FS64 scanners are used in the Online Beneficiary Claims System – an identity verification system created by MWETANA Consulting and Technology Group, a Neurotechnology Solution Partner.
Where to order this device?
Buy FS64 at Biometric Supply – a subsidiary of Neurotechnology.
Other Futronic scanners
Neurotechnology SDKs also include support modules for these Futronic scanners: