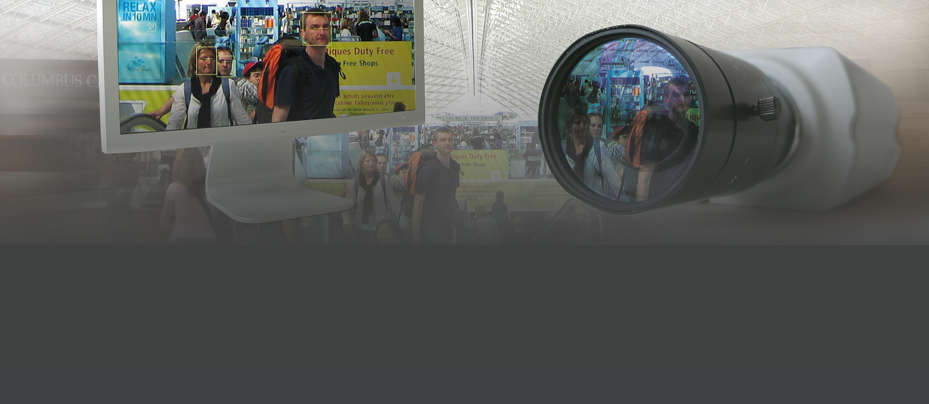 SentiVeillance SDK
Face identification and movement tracking for video surveillance systems
SentiVeillance SDK is designed for developing software that performs biometric face identification and detects moving pedestrians or vehicles or other objects using live video streams from high-resolution digital surveillance cameras.
The SDK is used for passive identification – when passers-by do not make any efforts to be recognized. List of possible uses includes law enforcement, security, attendance control, visitor counting, traffic monitoring and other commercial applications.
Available as a software development kit that allows solution development for Microsoft Windows and Linux platforms.
Features and Capabilities
Real time face detection, template extraction and matching against watchlist database.
Simultaneous tracking of multiple faces or objects in live video.
Advanced moving objects detection and classification for pedestrians and vehicle tracking.
Gender classification, age evaluation, detection of face expression, glasses and facial hair.
Automatic operation logs and reports events, as well as enrolls new faces from video stream and adds them to watchlist automatically.
Large surveillance systems support by connecting up to 10 cameras to a single computer and quick synchronization between networked computers.
Available as multiplatform SDK that supports multiple programming languages.
Ready-to-use server for integration into video management systems (VMS) optionally available.
Reasonable prices, flexible licensing and free customer support.
The SentiVeillance 6.0 technology has these specific capabilities:
Real time performance. SentiVeillance technology performs face, pedestrian or object recognition and tracking in real time. The technology is designed to run on multi-core processors to achieve fast performance.
Two algorithms for surveillance systems. Depending on the surveillance system design, one of these algorithms may be used:

Biometric face recognition algorithm is based on deep neural networks and provides these capabilities for surveillance systems:

Multiple face detection, features extraction and template matching with the internal database in real time.
Facial identification reliability enables using large watchlist databases.
Face tracking is performed in all successive frames from the video source until they disappear from camera field of view. The face tracking algorithm uses dynamic face and motion prediction models that make it robust to occlusions like other objects or even other faces. The algorithm is able to continue tracking a face even when it re-appears after being fully covered by occlusions (like walls, furniture, posters etc).
Gender classification (optional) for each person in the frame.
Age determination (optional) for each person in the frame.
Smile, open-mouth, closed-eyes, glasses, dark-glasses, beard and mustache attributes detection (configurable).

Motion detection and tracking algorithm performs advanced detection of moving objects in the scene, their classification and tracking until they disappear. These features are available for surveillance systems:

Object classification. After calibration SentiVeillance allows to perform object classification based on the size and movement speed. For example, users can configure a surveillance system to determine if a tracked object is a vehicle, a single pedestrian or group of pedestrians. See video below.
Restricted areas control. SentiVeillance algorithm can detect and report if people or objects enter, leave or stay in restricted areas. The events are triggered when people or objects cross pre-defined lines or enter polygon-shaped areas. See video below.
Tolerance to weather conditions. The algorithm ignores rain and snow, as well as trees and bushes, which are swayed by wind.

Automatic operation. A system based on SentiVeillance 6.0 SDK is able to log face, pedestrian or object appearance, disappearance and tracking. The detected faces are matched against the watchlist in the internal database and recognized faces are immediately reported to the system. The system uses face tracking for automatic enrollment from video stream and adding new facial templates to watch list on the fly.
Large surveillance systems support. SentiVeillance 6.0 SDK allows to integrate its technology into surveillance systems with multiple cameras and multiple data-processing nodes. A single computer can process video data from up to 10 cameras simultaneously. Multiple computers with running SentiVeillance software can quickly synchronize biometric and surveillance data between each other over the network. The synchronization can be customized as the SDK includes sample source code for using the communication and synchronization processes.
Video files processing. SentiVeillance also accepts data from video files. The video files are processed in real time as coming from a virtual camera, therefore an hour-long video will be processed in one hour.
Note 1:
This demo video used the Chokepoint dataset[1, 2]. The permission to use it with this demo application was granted by the owners of the data.
References:
[1] https://arma.sourceforge.net/chokepoint/.
[2] Y. Wong, S. Chen, S. Mau, C. Sanderson, B.C. Lovell. Patch-based Probabilistic Image Quality Assessment for Face Selection and Improved Video-based Face Recognition. In IEEE Biometrics Workshop, Computer Vision and Pattern Recognition (CVPR) Workshops, pages 81-88. IEEE, June 2011. conradsanderson.id.au/pdfs/wong_face_selection_cvpr_biometrics_2011.pdf