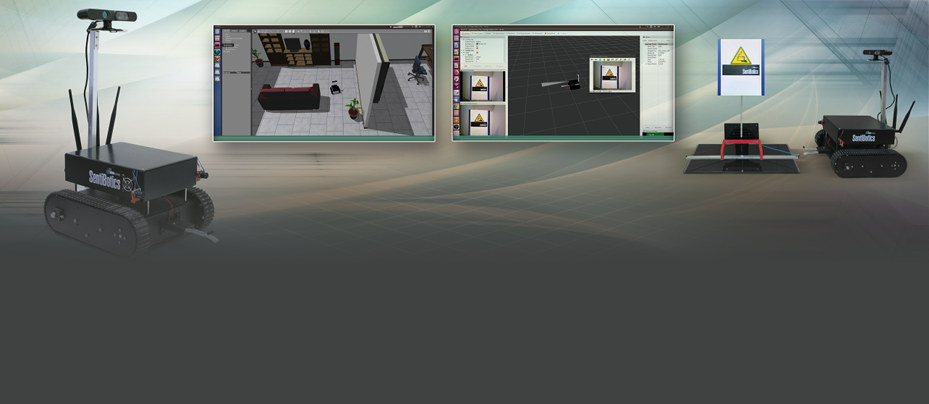 SentiBotics Navigation SDK
Imitation learning-based autonomous robot navigation kit
The software development kit is designed for researchers and engineers working on autonomous robot navigation projects. The kit may be also used for educational purposes in universities and other education institutions.
Available as either a complete, ready-to-run robotics system that includes Neurotechnology's mobile reference platform prototype, or as a software-only option for integration into existing robotics hardware.
A free 30-day trial of the SDK is available for use in a Gazebo robotics simulator.
System Requirements
If SentiBotics Navigation SDK software will be deployed on a custom robot hardware, the hardware should be equivalent to SentiBotics mobile reference platform or better.
The system requirements for a computer, which will be used for software development and/or running simulations, are:
PC or server with at least Intel Core i5-3427U processor (1.8 GHz) or equivalent x86-64 (64-bit) compatible processor.
A graphical processing unit (GPU):

NVIDIA GeForce GTX 1080 GPU or better is recommended.
Compute Capability 3.5 or better should be supported by the GPU.
CUDA 9.0 toolkit or newer is required.
cuDNN 7 library is required.

At least 8 GB RAM.
At least 8 GB of free disk space.
A control pad.
Operating system & middleware requirements:

One of the following:

Ubuntu 16.04 OS with ROS Kinetic Kame
Ubuntu 18.04 OS with ROS Melodic Morenia

Python 2.7.12
TensorFlow 1.8.0