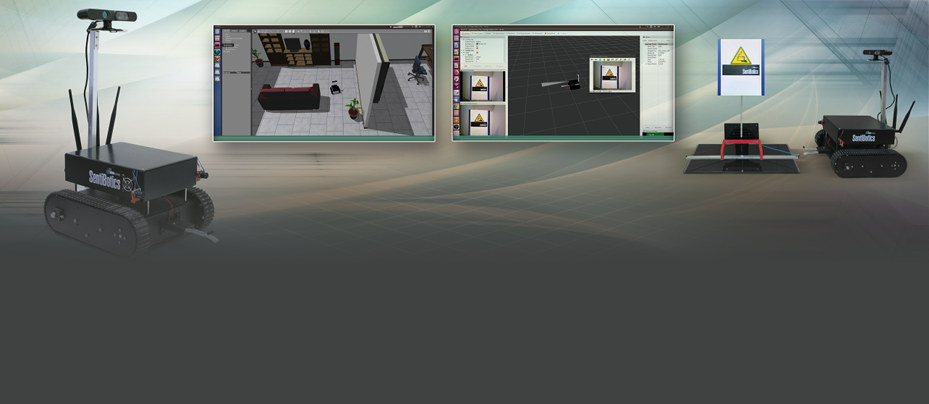 SentiBotics Navigation SDK
Imitation learning-based autonomous robot navigation kit
The software development kit is designed for researchers and engineers working on autonomous robot navigation projects. The kit may be also used for educational purposes in universities and other education institutions.
Available as either a complete, ready-to-run robotics system that includes Neurotechnology's mobile reference platform prototype, or as a software-only option for integration into existing robotics hardware.
A free 30-day trial of the SDK is available for use in a Gazebo robotics simulator.
SDK Contents
The SentiBotics Navigation Software Development Kit (SDK) is intended to be used either with a robot, based on SentiBotics platform or in a Gazebo simulation. The SDK also provides easy integration with custom mobile robot hardware.
SentiBotics Navigation SDK includes:
One SentiBotics Navigation component installation license.
Set of ROS packages including source codes (in Python and C++) of all algorithms and full documentation.
ROS-based infrastructure that allows users to rapidly integrate third party robotics algorithms, migrate to other hardware (or modify existing hardware) and provides a unified framework for robotic algorithm development.
Video tutorials how to train and run navigation controllers, learn and recognize objects, either in real or simulated robot cases.
SDK documentation.
Robot hardware specifications.
SentiBotics Navigation SDK has been tested on the SentiBotics mobile reference platform, and on simulated SentiBotics platform, with ROS version Kinetic Kame deployed on Ubuntu 16.04 and ROS version Melodic Morenia deployed on Ubuntu 18.04. SentiBotics algorithms can be ported to other robotic platform, which includes the specified or better computer and runs the specified Linux and ROS versions.